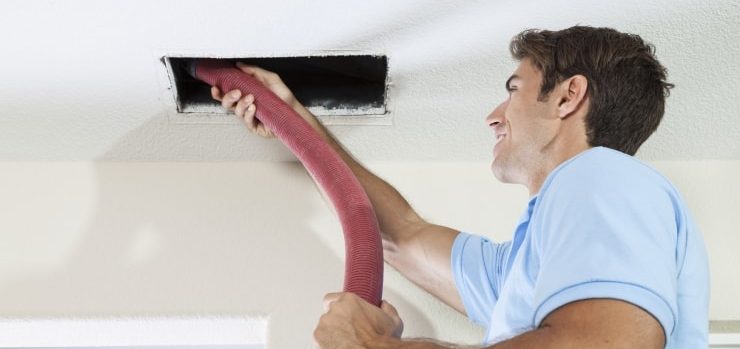 Air Conditioner's duct cleaning process is based on specialized air duct cleaning equipment and multiple accessories for the cleaning and purifying of ducted HVAC systems. The equipment is mostly duct air blowers, air vacuums, and rotary brush system to purify the air supply, air intake, and return air system ducts throughout your premises. Depending on the situation and requirements ac duct cleaning also involves ac filter cleaning and in addition cleaning of grills, coils, fans, handler, motors, strainer, and coils of the HVAC system.
When it comes to Air conditioning duct cleaning, we at Cool and Cool Air Condition System, your premier duct cleaning services in Dubai, offers exceptional servicing for all the products and services designed to improve your indoor air. Our duct cleaning services include all the dust, duct, dirt, debris, and mold spores from your air duct from entering your air conditioning system and decreasing its energy efficiency, which improves the quality of your indoor air and extends the useful life of your air filters and HVAC system. Our further services with which we serve our valuable customers are:
Air duct sealing
Dryer vent cleaning
Our HVAC / duct cleaning company is specialized in cleaning air conditioners indoor and outdoor units, the process includes vacuum cleaning of air ducts, cleaning of ac vents, strainer, cleaning & disinfecting drain tray and drain pipes, cleaning & washing of outdoor unit, gas top up and making sure there is no leak in ac unit.
We are just one call away!
Looking for AC Gas top up and Filter cleaning?
Air Conditioner not Cooling, Leaking or giving Bad Smell?
Noise coming from Air Conditioner Duct?
Air Conditioner not turning on?
Looking to install a new air conditioner?
Well we cover everything when it comes to Air conditioning maintenance and repair, simply call us now on 054 4404432 or the form available on this page to get an instant solution for your ac problem.
10% DISCOUNT
Special Promotional Discount for HVAC Servicing, filter cleaning, gas top up, capacitor replacement, fan coil cleaning, condensor cleaning
**applicable on service charges only!
Dirty Ducts and the Side Effects
They Reduce Your System's Efficiency
Think about it — if your air ducts and AC filters are dirty and clogged, it's going to be that much harder for the system to pump out the cool air that you depend on. You will be running the system more often and at colder temperatures. This will lead to a spike in your energy bills.

Not only that, but it will result in greater wear and tear on the system as a whole, meaning that you will have to invest in AC repair — or even a replacement of the whole system — much sooner than you otherwise would.

A simple step like having those dirty air ducts cleaned regularly, and replacing the air filters, can save you money and hassle.
They Put Your Family At Risk for Mold
You may have heard about toxic mold and the damage it can do to a property — and to people's health. While there are many types of mold that are naturally present in our environments, Stachybotrys chartarum is the one you really need to watch out for.

Also known as green-black mold, stachybotrys can lead to respiratory issues even in healthy persons, but is especially worrisome for anyone with asthma, allergies, or a compromised immune system. It's also very difficult to remove once it takes hold in your house.

Dirty air ducts are much less effective at filtering out these airborne mold spores than clean ones. As with many household (and health) issues, the old saying about an ounce of prevention is apt when it comes to mold.
AC Duct Cleaning Services in Dubai
Duct cleaning services are an important part of your daily healthier life because it prevents the health issues caused by unclean HVAC systems like asthma, pollen, nasal congestion, and respiratory problems and allergies. Things may get worse if there are smokers, dogs, cats or other pets in your home. You might not have known, you're ducted HVAC systems functions as a respiratory system for your home. When it becomes infected, contaminated and congested, it must be cleaned to eliminate sickness and to make the system run efficiently
a device for filtering speck from the air passing through it, substantially one protecting the air inlet of an internal-burning engine, Which composed of fibrous material which removes duct and bacteria to purify air.
Ducts are conduits/culverts or passages used in ventilation and air conditioning to deliver and remove air. Most of the people are now aware of air pollution is becoming a big issue of growing concern now a days. In addition to normal accumulations of dust and dirt found in all homes with air ducts, there are several other factors that can increase the need for regular HVAC system cleaning If you decide to have your heating or cooling system cleaned, it's important to make sure the service provider agrees to clean all components of the system and is qualified to do so.
We are dedicated to provide our clients with superior duct cleaning they can trust, and are certain that our service will improve the quality in your home. We help your heating and air conditioning systems back to their peak efficiency. Our company guarantees your satisfaction through the quality of service that we offer. We are unmatched in our cleaning services throughout Dubai. With the passage of time you need our services because just on your one call we does it all!

No job is too big or small for us
Our technicians use top most up to dated equipment
Our team of well trained and experienced technicians work fast and efficiently to minimize any inconvenience to you
Well maintained and proper cleaning of HVAC equipment can extend the life of your system
Keeping your HVAC system will save your packet and utility bills will no more a burden on your budget
Regular maintenance lessens the chances of your system requiring any further major repairs
Let us clean your ducts and HVAC systems so you can breathe easier!
We are the only quality endorsed duct cleaning company in Dubai. Your heating and cooling systems are in safe hands with over years of experts experience in commercial and residential Duct cleaning in Dubai. With an extensive network in this industry, Cool n cool air conditioning system llc; the name you can trust. We clean your system with the latest duct cleaning technology and equipment, you can be rest assured an outstanding job at minimal stress.

Our mission is to deliver total quality for our customers, each and every service

We are Dubai owned and operated company servicing Dubai and specializing in the cleaning and purification of all types of industrial, commercial, ventilation system and other associated even of an odd and hazardous nature. We takes pride in our best business practice to ensure your best quality service continue long in the future.

So if you want your indoor air clean and purified, send us and inquiry by clicking here or simply call us now!
Major Areas we Serve in Dubai
Al Barsha
Al Furjan
Al Quoz
Al Sufouh
Al Warqa
Al Wasl
Motor City
Arabian Ranches 2
Barsha South
Bur Dubai
Burj Khalifa
Deira
DIFC
Discovery Gardens
Downtown Dubai
Emirates Hills
Green Community
Mira 1
Mirdif
Hamriya
Hor Al Anz
International City
International City 2
Jebel Ali
Jafiliya
Jumairah Beach Residence (JBR)
Jumeirah Village Circle (JVC)
Jumeirah Village Triangle (JVT)
Jumeirah
Jumeirah Golf Estate
Jumeirah Island
Karama
Mankhool
Mirdif
Marina
Meadows
Mudon
Nad-al-Hamar
Oud Metha
Oud Metha
Oud Metha
Palm Jumeirah
Raffa
Remraam
Sheikh Zayed Road
Silicon Oasis
Jaddaf
Studio City
Sustainable City
TECOM
The Gardens
The Lakes
Umm Suqeim
Wafi City
World Trade Center
Zabeel